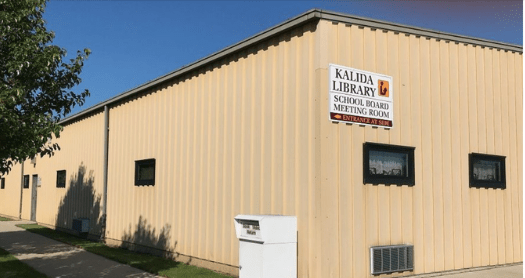 Kalida - Union Township Location
301 North 3rd Street
PO Box 270
Kalida OH 45853
(419) 532-2129
Funding for the Kalida-Union Township Location is provided from the operating budget of the Putnam County District Library.
Current Hours
Monday 10 am to 6 pm (closed 1:30 pm to 2 pm for cleaning)
Tuesday 10 am to 6 pm (closed 1:30 pm to 2 pm for cleaning)
Thursday 1 pm to 7 pm (closed 3:30 pm to 4 pm for cleaning)
Saturday 10 am to 2 pm
**First hour of each day is reserved for at risk populations
**Curbside service still available
History

The Kalida-Union Township Location of the PCDL has been housed:
Substations were located in Kalida 1935-1973 and became a stop for the bookmobile
Village Municipal Building where the Kalida Lions Club bought & installed the shelving, opened on April 8, 1973
North Third Street on Saturday, October 8, 2011. The grand opening ceremonies were held Sunday, October 9, 2011 from 1-3 p.m.