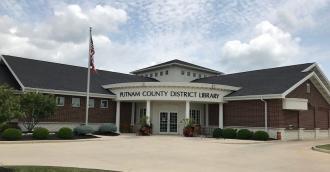 Ottawa Location
136 Putnam Parkway
Ottawa OH 45875
(419) 523-3747
Funding for the Ottawa Location is provided from the operating budget of the Putnam County District Library.  The Putnam County District Library does not have an operating levy at this time.
Current Hours
Monday through Thursday 10:00 am to 7 pm 
Saturday 10 am to 2 pm
**Curbside service still available
History
After several attempts at establishing a library beginning as early as 1896, the first county public library was founded on February 12, 1924 through the efforts of Maizie Hauck Frey.
The library became officially known as the "Putnam County Library Association" in 1930 and housed in the courthouse
1934 it moved to a residence on the corner of Main and South Locust Streets. In this new location the library had a separate Reading Room, Children's Room, and began its Local History Collection.  
1948, the library became officially known as the "Putnam County District Library" and as the public demand for library services grew
New library was constructed in 1986 on North Thomas Street until August 2007, when a flood devastated much of Ottawa including the library.
Temporarily housed at the Putnam County Educational Service Center 2007-Feb 2011
New library completed on Putnam Parkway.  The Grand Opening of the new Putnam County District Library Ottawa Location was on March 12, 2011.